Polygraphs test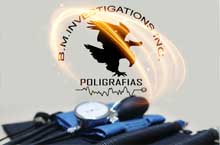 Why use our services of Poligrafias?.
- We have APA certifications which allows us to perform tests
- Polygraphs for pre-employment, routine and research.
- We perform all our tests according to the strict criterion of
  The American Polygraph Associations.
- Complete reports from 24 to 48 hours.
- Our polygraphers are updated annually to catch up with
 - All the techniques of the profession and current information.
- We offer service at home.
- Availability to travel in and out of the country.
- Advice on subjects of polygraph.
- We provide seminars on the practical use of polygraph..