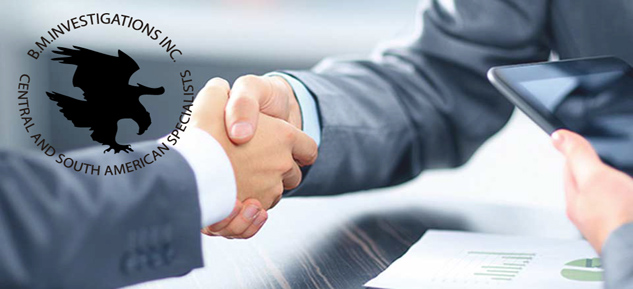 B.M.InvestigatioNS INC.
BM Investigations, Inc. is a private research company based in Panama City. We focus on Latin America as our main area of ​​expertise, and we can carry out immediate operations.
We are part of a global network of professionals and associates, which allows us to obtain results in less time. We set high standards for our clients, and our dedication and professionalism have stimulated our growth by being considered as one of the most important private research companies in Latin America.
Our staff of experienced and well-trained investigators includes former law enforcement agents, government agents, military intelligence officers and security specialists.
BM Investigations, Inc. has immediate operational capabilities in Central and South America. The presence of our researchers allows us to provide a better service to our customers being more effective, saving them time, money, unlike any other.
Our main objective is to carry out private Investigations for companies and individuals.
Often, local law enforcement officials simply do not have the resources to focus on the appropriate level of care required for their particular case.
Corruption and bribery are relatively common throughout Latin America, and it is sometimes difficult to determine who is telling the truth.
Bringing in a private investigator can often break the local bureaucracy, encourage local officials to act, and can provide additional information, evidence or knowledge.